CrowdTuesday Meets CITIZEE: Scaling-Up Energy Efficiency Investments.
Free-Webinars - 21 October 2021
This CrowdTuesday, we are partnering with CitizEE project for a capacity building workshop in the frame of the EU Sustainable Energy Week.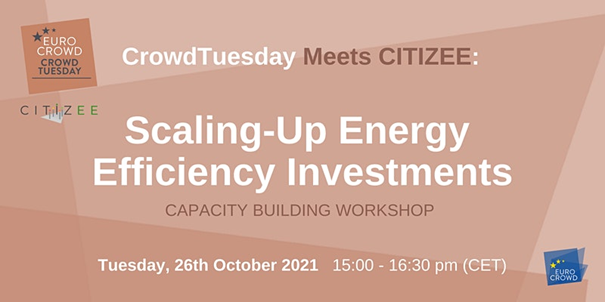 The goal of this workshop is to guide and train European public authorities on scaling up investments to make our buildings more climate-friendly. In particular, we will explore how public authorities can involve citizens in public funding decisions and co-investing through crowdfunding platforms, in order to build greener constructions, but also renovating those already standing.
Data show that 40% of total EU energy consumption is used by the building sector and 36% of total EU greenhouse gas emissions come from buildings. This is why we need to improve the energy performance of buildings across the EU ensuring better energy and resource efficiency.
Based on existing best practices and pilots this workshop will dive deeper into innovative financing solutions that leverage the cooperation between public and private actors for creating impact and better buildings that help us fight climate change.
Providing sustainable investment opportunities for citizens through crowdfunding platforms, allows to establish transparent and democratic mechanisms making more effective use of public funding. At the same time, mobilising private investments for projects that create impact accelerates the energy transition and improves our daily life.
AGENDA
The CITIZEE project with support from the GREENFOOT project is organising a capacity building workshop in the frame of the EU Sustainable Energy Week.
Background:
The workshop is organised in the frame of the EC co-funded CitizEE project. CitizEE's strategy is therefore conceived to support public authorities with a twofold purpose:
Setting up Citizen Investment Platforms. These investment platforms backed public funds (namely the European Fund for Strategic Investments (EFSI) are considered as Investment facilities channelling public and private financing from several co-investors to provide financial products to designated final beneficiaries and/or projects.
Developing, testing and evaluating tailored and widely adopted citizen financing schemes for energy efficiency. Citizen financing mechanisms, such as crowdfunding or cooperative funding will be matched with public financing instruments.
Register here:
https://www.eventbrite.co.uk/e/crowdtuesday-meets-citizee-scaling-up-energy-efficiency-investments-tickets-190480992777
After registering, you will receive a confirmation email containing information about joining the webinar.
For information on the future webinars of the series, dates and registration, follow us on social media and project partners' websites.
Subscribe to the newsletter